Preschool Application
Select Language
Completing this preschool application does not guarantee a program placement. After completing the application, you will still need to complete program enrollment forms and provide documentation to verify eligibility.
Checking the status of a current application? Click Here and enter your child's tracking number. Can't find your tracking number? Contact our office for assistance at KCPI@kentisd.org or 616-447-2409 Option #1.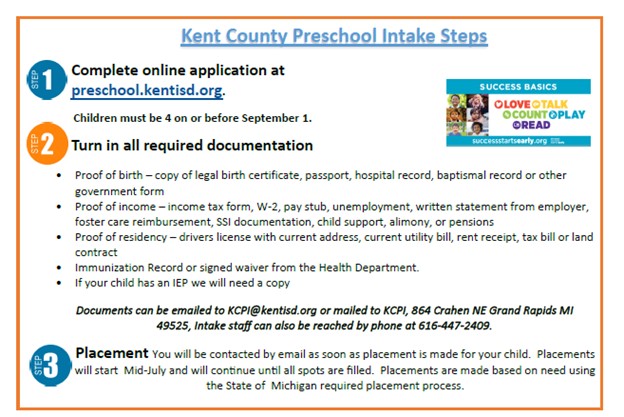 If you choose, you may download a printable application to complete and mail into us.

Once completed, you can send your application in either by email kcpi@kentisd.org or by mail to:

GSRP – Attention Intake
864 Crahen NE
Grand Rapids, MI 49525


Click here to view all participating preschool sites.

Click here to view frequently asked questions.

Help Me Grow Kent connects with families and children birth through age 5 to local resources helping children grow up to be heathy and ready to succeed in school. Click here for more information on Help Me Grow Kent or call 616-742-8903 for any assistance.